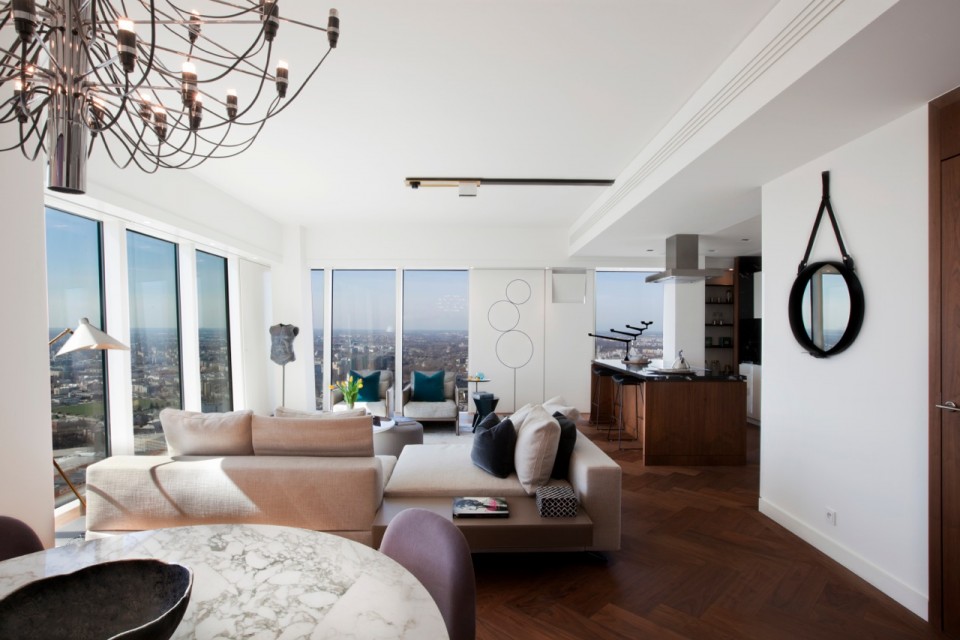 Za sprawą niezwykłej, ekspresyjnej bryły ZŁOTA 44 postrzegana jest jako budynek-rzeźba. Architektoniczne dzieło sztuki nie byłoby jednak spójną całością gdyby nie komponujące się z charakterem wieży wyjątkowe wnętrza. Projektowanie i aranżacja wnętrz to połączenie wymiaru artystycznego oraz walorów użytkowych. Za aranżacje wszystkich apartamentów oraz części wspólnych ZŁOTEJ 44 odpowiedzialna jest prestiżowa londyńska pracownia Woods Bagot. Wystrój apartamentów, inspirowany sztuką oraz bogatym dziedzictwem stylu XIX wiecznych europejskich metropolii, jest jego teraźniejszą interpretacją, która wspaniale uzupełnia aspiracje oraz ducha architektury Daniela Libeskinda.
Oddane do użytku apartamenty w ZŁOTEJ 44 będą kompleksowo wykończone i wyposażone, jednak przyszli rezydenci już na obecnym etapie mają możliwość wyboru materiałów, z użyciem których aranżowane będą wnętrza ich mieszkań, w aż 9 proponowanych wariantach. Dzięki temu każdy z apartamentów dopasowany będzie do indywidualnych potrzeb jego właścicieli. Połączenie stylistycznej indywidualności z ikonami współczesnego designu, stworzy niezwykłą przestrzeń do życia.
Charakterystyczny układ przestrzenny we wnętrzach apartamentów, z licznymi skosami oraz nietypowymi niszami oraz naturalne oświetlenie pomieszczeń stanowią idealne tło do eksponowania dzieł sztuki – grafik, obrazów czy rzeźb. Ich niepowtarzalność sprawia, że są one niezwykłym dodatkiem, który wraz z pozostałymi elementami wystroju, stanowi odzwierciedlenie luksusu na najwyższym, światowym poziomie. Eksponowanie sztuki we wnętrzach, na które tak silnie oddziałuje ekspresyjna bryła budynku, pozwala na stworzenie zupełnie nieszablonowych projektów aranżacyjnych. Współczesna sztuka wspaniale dopełni nowoczesny projekt wnętrz autorstwa pracowni Woods Bagot.
ZŁOTA 44 to miejsce, w którym łączą się sztuka architektury, dzieła sztuki użytkowej oraz elementy sztuki wysokiej, tworząc razem niezwykłą przestrzeń mieszkalną, która gwarantuje wspaniałą sztukę życia.