Only good investments – Robert Lewandowski at ZŁOTA 44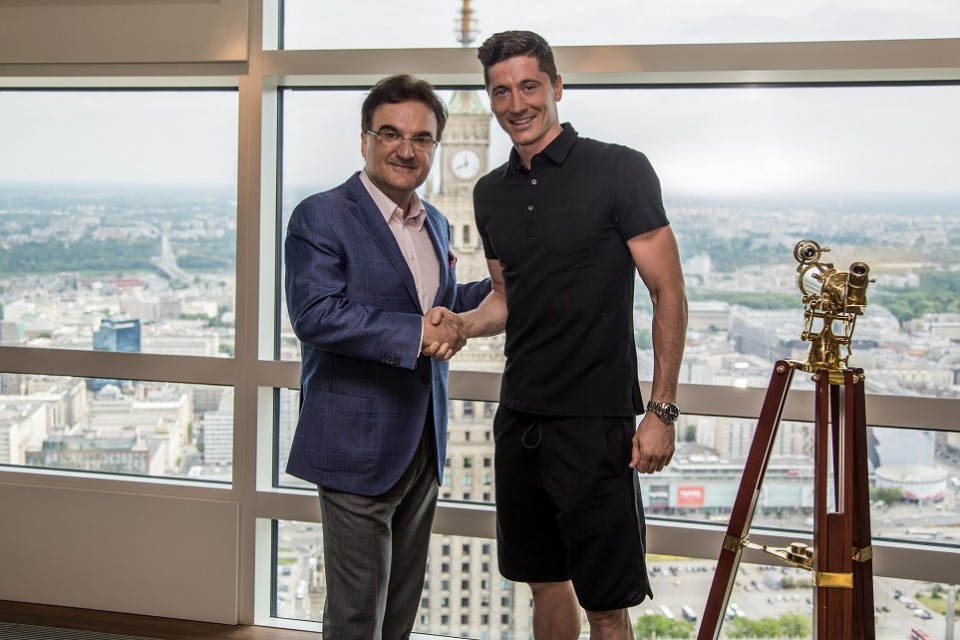 Benjamin Franklin said that an investment in knowledge pays the best interest. Surely, Robert Lewandowski must be well-aware of this because – as he says – he tries to learn as much as he can about the world of business, expands his knowledge about investment trends and consults his investments with experts. One of his latest business decisions was to buy an apartment in the residential tower at ZŁOTA 44.
Robert Lewandowski is a sportsman who perfectly knows that good decisions taken early on and persistence in pursuing goals yield success down the career path. This talented footballer started his career with Varsovia Warsaw, then moved to Znicz Pruszków and Lech Poznań and finally transferred to Borussia Dortmund, where he took part in 187 games and totalled as many as 103 goals. In 2014, he joined Bayern Munich and on 5 September 2015 he scored unbelievable five goals in merely nine minutes. Little wonder he is regarded as one of the most talented and hence most expensive footballers in the world. Likewise, it comes as no surprise that a man of such stature invests in his and his family's future, taking well-considered business decisions. Robert Lewandowski invests not only in properties, but also in start-ups. In addition, together with his wife Anna Lewandowska, he supports numerous charitable activities.
The decision to purchase an apartment in the building designed by Daniel Libeskind makes perfect sense. This is a prestigious building in prime location, and its facilities and world-class design put this unique project among the group of premium buildings. Robert Lewandowski admitted that the purchase was also based on purely practical considerations. As a sportsman, he appreciates the wide range of amenities available on the spacious recreational floor that make it easy to do a challenging training programme.  The 25-metre swimming pool – the largest pool available in such buildings in Poland, a well-equipped gym, massage rooms, fitness room, sauna and steam bath are the amenities that place ZŁOTA 44 on top of the world's league table of apartment buildings.
In an interview for Forbes, the captain of our national team said that when contemplating investments he chooses such projects that he likes and in which he sees a potential. He added that he would never invest in a project that he knows nothing about. His choice confirms that the purchase of an apartment in the high-rise building designed by Daniel Libeskind was a very good business decision. The best recommendation is conveyed by the footballer's words, who admitted that real pearls in the property market can be found quite rarely, and with its uniqueness, outstanding equipment and exceptional architecture, ZŁOTA 44 is Poland's unparalleled project that meets the highest global standards.