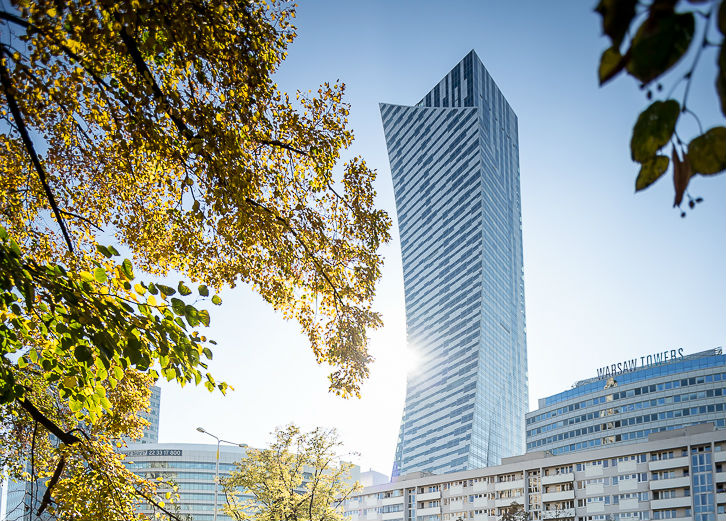 Wieżowce rozpalają wyobraźnię i pozwalają ludziom wspinać się ku chmurom, budzić 100 metrów nad ziemią i podziwiać dalekie horyzonty przy porannej kawie. I choć biblijna wieża Babel miała być dowodem na to, że pięcie się ku górze jest wbrew wszelkim prawom, ciekawość ludzka na szczęście pozwoliła na stawianie pięknych niebosiężnych budowli, które – zamiast współtworzyć betonową dżunglę – w istocie przyczyniają się do wdrażania ekologicznych rozwiązań w sercach wielkich metropolii. ZŁOTA 44 jest niejednym przykładem wieżowca stawiającego na zielone technologie i zbliżenia do natury.
Jednym ze sztandarowych przykładów ekologicznego wysokościowca jest Bank of America Tower. Ten mierzący 366 metrów budynek oddany został do użytku w roku 2009 i od razu zasłynął jako enklawa ekologii. Jedna z iglic Bank of America Tower jest w istocie turbiną wiatrową i zapewnia ona wieżowcowi energię elektryczną. Nowoczesne systemy wentylacyjne zapewniają wyjątkowo ergonomię. Tak samo, jak w przypadku Hearst Tower większość materiałów uzyskana została w recyklingu. Na dachu wieżowca stworzono ogród, w którym zainstalowano pszczele ule.
W nie jedną, lecz trzy turbiny wiatrowe (każda o mocy 225 kW) wyposażony został stojący w stolicy Bahrajnu wieżowiec Bahrain World. Prądy wietrzne występujące w Zatoce Perskiej sprzyjają uzyskiwaniu energii właśnie w ten sposób, a kształt wież został stworzony tak, by ów proces zoptymalizować. Dach Bahrain World pokryto grubą warstwą żwiru zapobiegającego nadmiernemu nagrzewaniu się budynku oraz wpływowi promieniowania ultrafioletowego. System kanalizacyjny wieżowca wyposażony został w specjalne czujniki, dzięki którym niemożliwy jest nadmierny przepływ wody.
Jednak najbardziej charakterystycznym przedstawicielem zielonego budownictwa jest Wertykalny Las, czyli dwa mediolańskie apartamentowce stworzone przez Stefano Boeriego. Aby mieszkańcy nie utracili kontaktu z naturą architekt umieścił na elewacji niemal siedemnaście tysięcy różnorodnych przedstawicieli flory – drzew, krzewów i innych wielorocznych roślin – dzięki czemu mieszkańcy, wyglądając przez okna i wychodząc na tarasy, mogą poczuć się jak w środku pachnącego lasu.
Warszawskim dowodem na to, że w architekturze kwestie ekologii traktuje się poważnie, jest budynek ZŁOTEJ 44. Wieżowiec jest prawdziwym inżynieryjnym mistrzostwem: dzięki innowacyjnym, przyjaznym środowisku technologiom zapobiega on nadmiernemu zużyciu energii oraz ogranicza emisję szkodliwych substancji. Dzięki zastosowaniu trójwarstwowych nowoczesnych szyb Triple Glass Unit budynek nagrzewa się w o wiele mniejszym stopniu niż inne podobne mu bryły, a specjalna stacja filtracyjna dostarcza do apartamentów świeże powietrze. Wychodząc naprzeciw idei zrównoważonego budownictwa, w garażach ZŁOTEJ 44 zlokalizowano stacje dokujące do samochodów elektrycznych. Najbardziej jednak widocznym elementem zbliżenia wieżowca ku naturze jest ogromny taras umiejscowiony na 8. piętrze, obsadzony kilkoma setkami różnorodnych roślin, w tym wierzbą białą, rozplenicą japońską i miskantem chińskim. Obecność tylu roślin przyczynia się do redukcji dwutlenku węgla oraz tworzy przyjemną zieloną oazę w sercu miasta.
Choć więc współczesne budownictwo kojarzy się z nowoczesnością, industrializacją oraz ucieczką od natury, ostatnimi czasy siłą napędową architektów jest wyszukiwanie sposobów, by mimo pokonywania granic kolejnych pięter, łączność z przyrodą oraz idea ekologii nie zostały zapomniane.