Relaxation, passion and health – prestigious retreat at ZŁOTA 44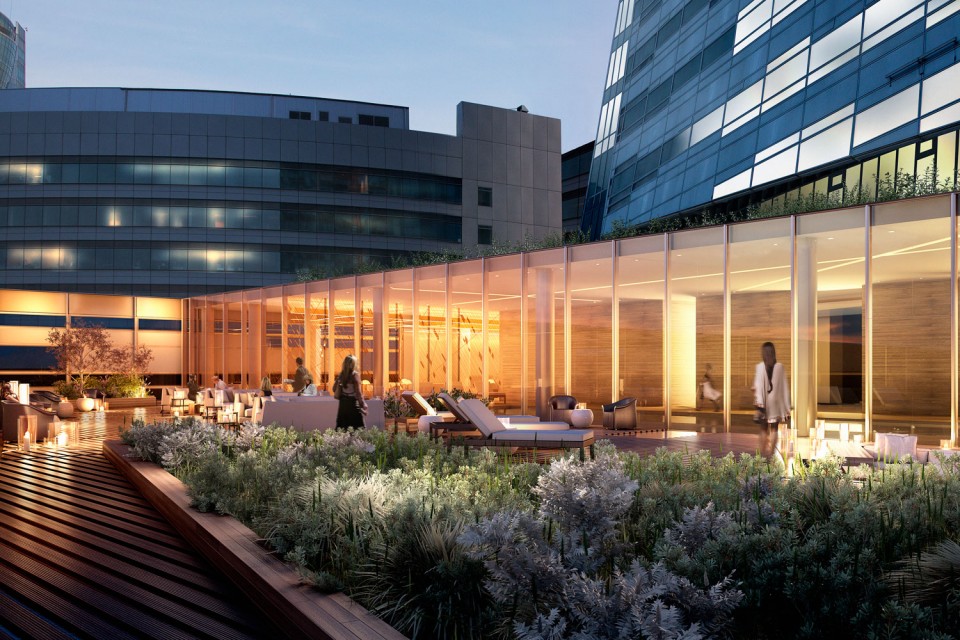 One of the main determinants of luxury, which makes apartment buildings belong to the premium class, is the availability of a comprehensively equipped recreational zone. In this case, recreation is understood in its broad sense to mean amenities for leisure and facilities that help residents pursue their passions or just make the daily life easier for them. ZŁOTA 44 embodies this idea as its standards come up to all the requirements to earn it a position among the world's few buildings of the "super luxury" class.
A nice-to-have feature in luxurious apartment buildings is a special place for wine storage and ageing. Wine is a most elegant, noble passion, but it requires fulfilment of specific, stringent requirements. The residents of ZŁOTA 44 will have a dedicated wine room at their disposal complete with temperature and humidity control. The room will also have a very comfortable and atmospheric place for wine tasting.
The sports and recreational amenities available at ZŁOTA 44 are an answer to the global, very positive and rapidly growing trend of healthy active lifestyle. Accordingly, a swimming pool has been installed in the building, with an impressive length of 25 metres, which makes it the longest recreational swimming pool available at any apartment building in Poland. Only a few of the most prestigious buildings in the world can boast a swimming pool that could match in length that constructed at ZŁOTA 44. For example, the ultra-comfortable One57 apartment building has a swimming pool that is 5 meters shorter. Installation of the swimming pool's stainless steel basin at the eighth floor at ZŁOTA 44 was a huge undertaking logistics-wise.
A feature that is only very rarely seen at apartment buildings, even those of the highest class, is a private cinema. The fact that this amenity is present at ZŁOTA 44 puts the residential tower next to such buildings as 56 Leonard in New York or One Hyde Park, which, as the Warsaw's building, are additionally equipped with a golf simulator. And, as is known, golf has been for long recognised as one of the most elegant and sophisticated sports.
As the wellness lifestyle becomes popular, there is a growing social awareness about environmental protection. Increasingly often people wish to spend time surrounded by nature. However, this is not always possible in such megacities as Warsaw. For this reason, the eight floor at ZŁOTA will feature a large green terrace with jacuzzi, immersed in several hundreds of different plants to give the residents an opportunity to relax in a true oasis. The flora will include such species as silver willow, hornbeam,  Eulalia grass or Japanese fountain grass. Their role will be not only to make the surroundings more beautiful and allow the residents to have some relaxation in nature: greenery in city centres is also an effective way to reduce carbon emissions, thus contributing to environmental protection.
In the prestigious competition titled "International Property Awards 2015″, ZŁOTA 44 was not without a reason recognised as one of the best residential buildings in Europe. One of the main criteria considered by the jury was the extent of the comfort afforded to residents, and the recreational floor is evidence par excellence that the level of amenities it offers is far above the average.