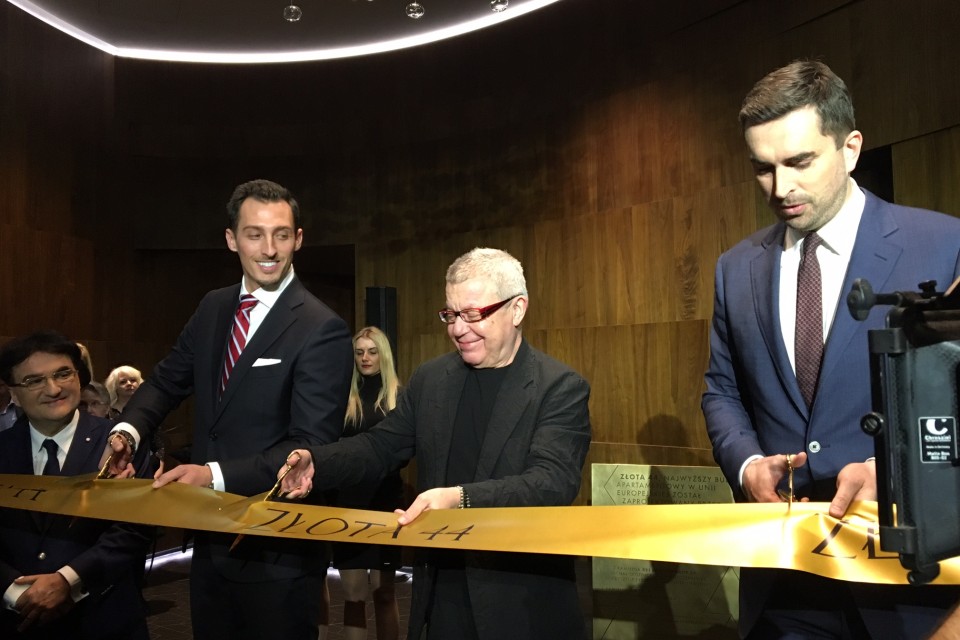 Monday the 13th of March 2017 was the day many were waiting for. On that day the grand opening of ZŁOTA 44 took place – the highest residential building in Europe and one of the most characteristic works of Daniel Libeskind. The building has been towering over the center of Warsaw for some time already with its unconventional shape that can be admired by everybody commuting through the city every day.
The first part of the ceremony started at noon. In the lobby of ZŁOTA 44 the vernissage of Daniel Libeskind's sketches took place. Rafał Szczepański, the vice-chairman of BBI Development, Michał Suchora, the curator of the exhibition and the architect himself gave short speeches.
The second part of the grand opening started in the evening. The lobby once again filled with guests arriving for the great gala. Michał Skotnicki and Jeffrey Stonger, the chairmen of BBI Development and Amstar – two companies of the consortium, which was originator of ZŁOTA 44, both appeared on the stage, followed by Daniel Libeskind, who passionately spoke about his Warsaw-based project. A few moments later the memorial was formally revealed. At this point, it was time for the most anticipated moment of the evening – the chairmen of BBI and Amstar and Daniel Libeskind cut the symbolic ribbon, thus officially opening ZŁOTA 44 building.
The guests were invited to the eighth floor, where formal toast was raised. A charity auction was conducted there during which the invitees could bid on a reprint of a Daniel Libeskind sketch and an autographed Robert Lewandowski t-shirt. Thanks to the generosity of the bidders the amount accumulated exceeded twenty eight thousand PLN.
The evening continued and the next event on the agenda was a classical music concert on the fiftieth floor. Daniel Libeskind personally assisted with selecting the repertoire – the spectators could enjoy, among others, the renditions of the Divertimento: Scherzo by Krzysztof Penderecki and the II Violin Sonata Solo: Presto by Grażyna Bacewicz.
The opening of ZŁOTA 44 culminated with the fireworks show that could be observed by the invitees at the ceremony and the whole Warsaw. The show was a spectacular finale for this exciting and festive day at ZŁOTA 44.
The 13th of March 2017 was an incredibly important day in the history of ZŁOTA 44. The building received an occupancy permit and was officially opened. Everyone who wants to visit the building and see the Daniel Libeskind's works exhibition will have a chance to do so between the 17th and 19th of March.