Three days with Daniel Libeskind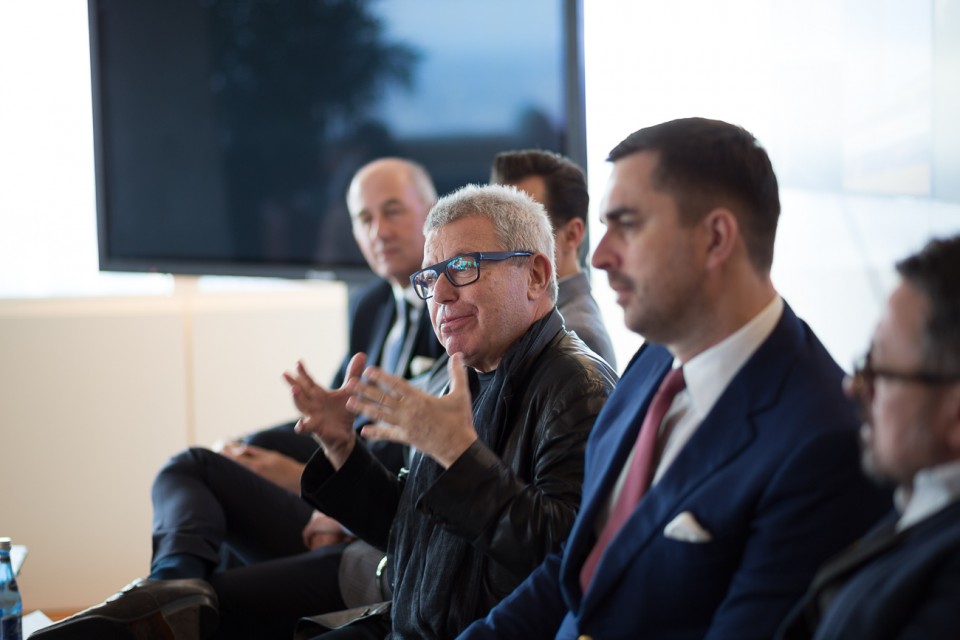 The past week has been very exciting for us. The world-famous architect and ZŁOTA 44 designer Daniel Libeskind, specially invited by BBI Development and US fund Amstar, visited Poland after an eight-year absence to attend the launch of the international campaign for ZŁOTA 44.
The focal point of his visit was a press briefing held in the marketing suite on the 50th floor of ZŁOTA 44, which also featured Woods Bagot London Principal and the building's interior designer Jonathan Clarke, Savills Head of International Residential Charles Weston Baker and the owners' representatives: Amstar Vice-President Jeffrey Stonger and CEO of BBI Development Michał Skotnicki. The international campaign was launched in response to growing interest in ZŁOTA 44 and Warsaw from foreign buyers and editors of prestigious magazines like Monocle and The Sunday Times, which often describe ZŁOTA 44 as one of the most interesting buildings in Warsaw, both as an investment and a fabulous place to live.
On Thursday, November 19, Daniel Libeskind appeared on The World Goes Round (Świat się Kręci). In a short interview with singer Kayah, he reminisced about his childhood in Warsaw and talked about his inspirations.
On Friday, November 20, at Studio Bar, Daniel Libeskind gave a talk at the opening of the 6th Pretty Things Fair, Warsaw's premier event celebrating good design. The event attracted many young people – students of architecture and those with an interest in local urban planning – who were extremely thrilled to be able to listen to the master.
Daniel Libeskind's talk was the only presence of ZŁOTA 44 at the Fair. ZŁOTA 44 repeatedly cropped up in the panel discussion on the future of Plac Defilad, which featured CEO of BBI Development (one of ZŁOTA 44 owners) Rafał Szczepański, Deputy Mayor of Warsaw Jarosław Jóźwiak, Vice-Director of the Museum of Modern Art Marcel Andino Velez and JEMS Architekci's Olgierd Jagiełło. Rafał Szczepański stressed the importance of open spaces at ground level in downtown Warsaw. The ground level of ZŁOTA 44 was discussed.
On November 21, Daniel Libeskind visited POLIN, the Museum of the History of Polish Jews. The architect was hugely impressed by the museum building and the exhibition he saw there.
To see photos from Daniel Libeskind's visit to Poland and other materials relating to the architect, visit ZŁOTA 44's Facebook page.