"I remember the old Warsaw very well" – Eugeniusz Tyrajski at ZŁOTA 44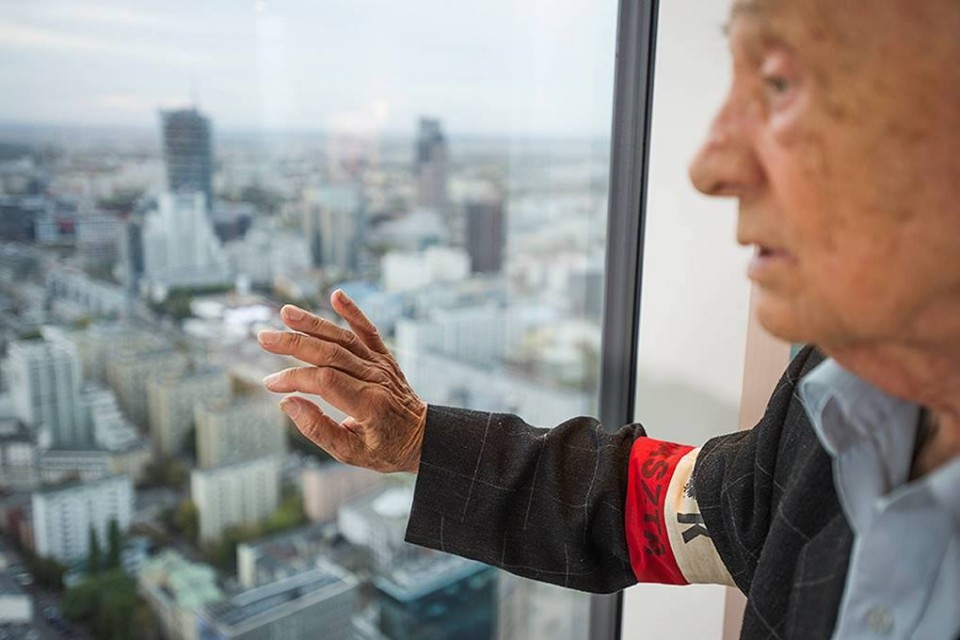 "Youth. There is nothing more beautiful than youth" – wrote Witold Gombrowicz in Ivona, Princess of Burgundia. But what if youth coincides with wartime? Then it gives the strength to fight.
Recently an extraordinary man visited ZŁOTA 44: Mr Eugeniusz Tyrajski, nicknamed "Sęk" or "Genek", a soldier of the Polish Underground State, member of the "Grey Ranks" and the Home Army, participant of the Warsaw Uprising, a native of Warsaw. He was 13 when the Second World War broke out.
Eugeniusz Tyrajski lived at Łazienkowska Street, off the Legia football stadium, where, as a sports lover, he used to spent most of his free time. He completed primary school at 9 Zagórna Street. He was also an active member of 90 WDH – a scout team headquartered near his school. Shortly before the war, he was awarded the "scout's cross". As a diligent student he successfully passed entrance exams to the Batory high school at Myśliwiecka Street. However, he did not complete the school in a normal way: the war broke out and the school was closed down. Still, Eugeniusz Tyrajski continued his education in secret classes and actively participated in the Polish independence underground – first with the "Baszta" Battalion and then as a member of the K-2 company in the "Karpaty" Battalion. He passed his Matura exam shortly before 1 August 1994. During the Warsaw Uprising, Eugeniusz Tyrajski participated in "small sabotage" operations, mainly in the area of Sadyba. For example, he took part in the defence of the Wyścigi district. When on 2 September Sadyba was taken, he was captured and sent to a transit camp in Pruszków, and then moved to the interior of Germany. After many vicissitudes he returned to Warsaw on 10 July 1946. Since that time, Eugeniusz Tyrajski has witnessed reconstruction and splendid growth of the city, which is a miracle for many: the capital has not only regained its splendour, but has never ceased to grow – including upwards.
"I remember Warsaw very well" – said Mr Tyrajski, marvelling at the city from the 50th floor at ZŁOTA 44, and added – "I see the new Warsaw, which truly looks more and more beautiful".
ZŁOTA 44 – as a building that is clear evidence of Warsaw's present glory – is extremely proud that it could host such a great man. We must not forget that the booming growth of Poland and its capital is only possible thanks to the heroes who bravely opposed the destructive forces years ago.