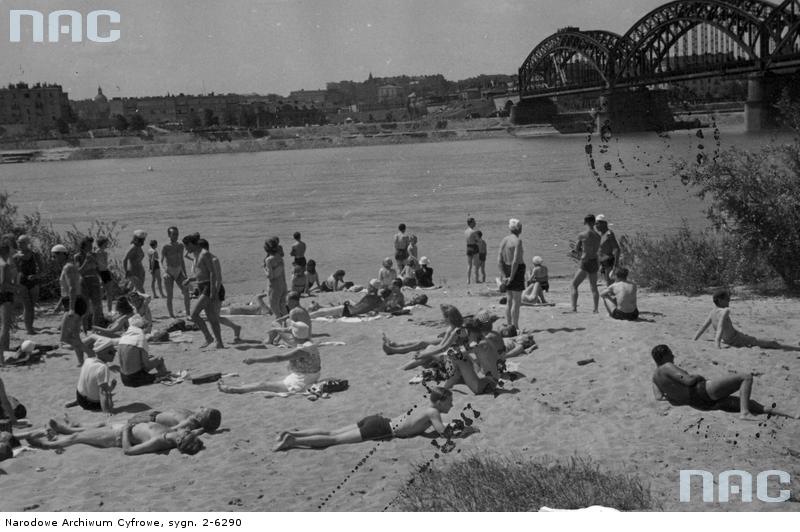 In large cities summer can be uncomfortably hot – on warm days, parks and green squares attract plenty of city residents. When the air temperature climbs above 30°C, it is relaxation near water that can provide the greatest respite from heat.
An increasing number of capital cities in Europe arrange places for their residents that imitate the ambience of real seaside beaches. In Paris, Brussels, Prague or Berlin such spots have become immensely attractive. The largest inner-city beaches are not only places for sun-worshippers or – on the contrary – shade-lovers. They are also places where you can relax actively, dine, watch a movie in an open-air cinema or enjoy a concert of your favourite artist.
In the context of Polish climate, Warsaw is conspicuous by its exceptionally rich choice of inner-city breaches available in the summer for residents and visitors. Beaches in Warsaw were hugely popular already in the interwar period. At that time, the areas along the Vistula were booming – in addition to sunbathing, people could spend their free time at the river, having dancing parties, participating in sports contests or in social meetings. The last several seasons have clearly brought a revival of interest in leisure on the banks of the Vistula. The residents of Warsaw have several river beaches to choose from.
Saska Kępa beach, a bit wild, hidden in tree-shade, offering a volleyball court and a playground for children and affording magnificent views of the downtown. Plaża Żoliborz, a small beach, nested on the green bank of the Vistula, ensures a unique atmosphere with its late-night live reggae sessions. You can particularly enjoy the music swaying comfortably in the available hammocks. Plaża na Płycie Desantu is a beach with a yet different feel, a spot to practice sports activities and let off some steam in popular bars: Cud nad Wisłą and Pomost 511. Other frequented breaches include Plaża Praska, situated near the La Playa club. However, the most popular riverside spot by far is Poniatówka – an inner-city beach that owes its name to the nearby bridge. This is the largest of the Warsaw's beaches located on the right bank of the Vistula, with a volleyball court and other sports facilities available to the visitors. Parked around are foodtracks, which have been much in vogue recently. The trendy Plażowa and Temat Rzeka bars are just a few steps away. Each of the Warsaw's beaches offers deckchairs, wicker seats, bicycle and kayak rentals and dedicated barbecue spots.
Warsaw's beaches lining the Vistula received multiple recognitions in international rankings. In 2013, National Geographic ranked them among the most beautiful inner-city beaches in the world. This year, the Spanish daily El Mundo published a list of Europe's top 10 inner-city beaches, where Poniatówka is named next to the beaches of Zurich, Wiedeń or Kopenhagen. With their attractive location, vicinity of green areas and open-air amusement opportunities, Warsaw's beaches are highly appreciated not only by the city's residents, but also by the increasing numbers of tourists from other European countries.
As an extra feature, Warsaw's beaches afford an astounding view of the city panorama, with the characteristic sail-shaped body of ZŁOTA 44 on the horizon. Having such places to hang out and relax in the heart of the city is something unique on the European level, a luxury that Warsaw's residents and visitors are increasingly eager to enjoy.