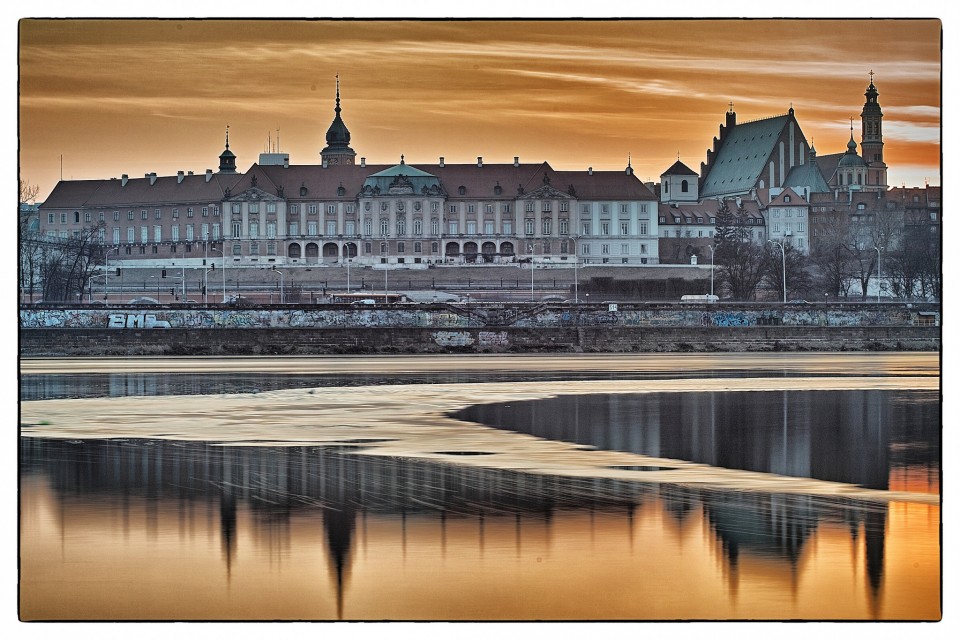 ZŁOTA 44 uchodzi za symbol komfortu, ikonę wysmakowanego designu i wzór dostępności udogodnień ułatwiających codzienność. Warszawa w swej bogatej historii miała wiele takich symboli, a ich definicja zmieniała się wraz z epokami, kolejami dziejów i modą. Oto tylko kilka przykładów budynków, których renoma przekraczała granice kraju – ze względu na bogactwo wystroju albo nowoczesne – jak na swoje czasy
–  rozwiązania.
18 marca 1596 roku król Zygmunt III Waza podjął decyzję o przeniesieniu stolicy z Krakowa do Warszawy. Warszawa była wtedy dość skromnym miastem, lecz przenoszenie machiny dyplomatycznej poskutkowało rozpoczęciem procesu bogatego rozwoju. Głównym czynnikiem, który sprzyjał rozbudowie była konieczność zakwaterowania dygnitarzy. W ten sposób powstawało coraz więcej pałaców i olśniewających rezydencji. Za jedną z najbogatszych uchodził zlokalizowany przy Krakowskim Przedmieściu dwór Adama Kazanowskiego, którego przepych stawiał inne rezydencje w zdecydowanym cieniu. Był to trzypiętrowy gmach wykończony miedzianymi dachami i narożnymi masztami. I choć włoski styl budowli wprawiał w zachwyt, był on niczym w porównaniu z wnętrzami. Marmurowe stoły, pokaźna kolekcja broni, arrasy z kosztownej złotej nici, żyrandol z wbudowanym zegarem, sprowadzony z Indii spreparowany żółw, usytuowana pośrodku jadalni fontanna spływająca drogim winem, klatki z egzotycznymi ptakami – to tylko niektóre z elementów, które czyniły rezydencję Kazanowskiego symbolem luksusu tamtych czasów.
Złotym wiekiem dla rozwoju Warszawy był wiek XVIII, kiedy to ogromny wzrost ludności poskutkował ożywieniem budowlanym i szybkim poszerzaniem granic miasta. Nowe kamienice, dworki i pałacyki zaczynały uzupełniać miejski krajobraz. Brukowano ulice, wprowadzano kanalizację, sporządzano pierwsze dokładne plany miasta i utworzono Oś Saską z Pałacem Saskim na czele. Ówcześnie w Warszawie bardziej imponujący był jedynie Pałac na Wodzie. Któż mógł reprezentować najlepszy smak, jeśli nie król? Tak więc pałac zachwycał licznymi kopiami rzeźb antycznych, kaflami holenderskimi, malowidłami pędzla Bacciarellego. Znajdowały się tam m.in.: meble w stylu Ludwika XVII, kryształowe żyrandole, żardiniera z brązu i marmuru afrykańskiego, angielski fotel gobelinowy, zdobione szafy wnękowe na bieliznę pościelową, chińskie tapety, zegar kominkowy z alabastru i brązu.
Pod koniec XIX wieku przy ulicy Marszałkowskiej powstał Dom Towarzystwa Ubezpieczeniowego "Rosja", który wyznaczał nowe horyzonty w budownictwie, był on bowiem stworzony ze stali i betonu. Jego ówczesny dostojny wizerunek utożsamia wspaniałe warszawskie czasy wielkomiejskości. To tam użyte zostały pierwsze w Warszawie elementy żelbetowe, to tam działała pierwsza elektryczna winda, to właśnie tam wreszcie zainstalowano w pełni elektryczne oświetlenie. Na drugim piętrze gmachu znajdowały się jedne z najbardziej ekskluzywnych apartamentów Warszawy przełomu wieków, a niektóre z nich miały aż siedem pokoi. Projektantem budynku był niezwykle ceniony Władysław Marconi. To także on stworzył koncepcję eklektycznego Hotelu Bristol. Ten ukończony w 1901 roku gmach zachwycał swych gości kryształową windą z białymi ramami i wykładaną mosiądzem balustradą. Działało tam aż sześć numerów telefonicznych, co w kontekście faktu, że w całej Warszawie było ich zaledwie osiemset, robi niebagatelne wrażenie.
Dawna Warszawa przeminęła, lecz ta nowa wciąż się rozwija, czego dowodem jest powstawanie nowych interesujących miejsc. ZŁOTA 44 jest wręcz odzwierciedleniem wielowiekowych dążeń do komfortu, nowoczesności i ekskluzywności. Innowacyjne rozwiązania konstrukcyjne zachwycają tak, jak zachwycały te zastosowane przy budowie Domu Towarzystwa Ubezpieczeniowego "Rosja", szeroka gama udogodnień przywodzi na myśl złote lata Hotelu Bristol, a iście królewski design przypomina o przepychu dawnych rezydencji.